Fox News reporter injured in kyiv attack says he's 'very lucky' to be alive | Ukraine
Fox News correspondent Benjamin Hall paid tribute to his late colleagues who were killed in Ukraine while reporting on the war.
The British journalist said he felt "very lucky" to have survived a bombardment by Russian forces as he shared updates on his injuries. Hall, 39, managed to survive the onslaught but lost half a leg and a foot, while one of his eyes "no longer works".
His team was reporting for the US network Fox News in Horenka, on the outskirts of kyiv, when his vehicle was hit by Russian shelling on March 14.
Her Ukrainian producer Oleksandra Kuvshynova and Irish cameraman Pierre Zakrzewski were both killed in the incident.
"More than three weeks have passed since the attack in Ukraine and I wanted to start sharing everything. But first I must pay tribute to my colleagues Pierre and Sasha who did not come that day," Hall wrote on Twitter.
"Pierre and I have traveled the world together, working was his joy and his joy was contagious. TO TEAR."
Sharing a photo of himself blindfolded and wearing an eye patch, he added: "To sum it up, I lost half a leg on one side and a foot on the other.
"One hand is being put together, one eye is broken and my hearing is pretty mind blowing… but overall I feel so damn lucky to be here – and it's the people who got me there. brought here that are amazing." Hall then shared a link to a Fox News video tribute to Kuvshynova.
Zakrzewski was a seasoned warzone photographer who had covered several conflicts for Fox News, including Iraq, Afghanistan and Syria. Based in London, he had been working in Ukraine since February.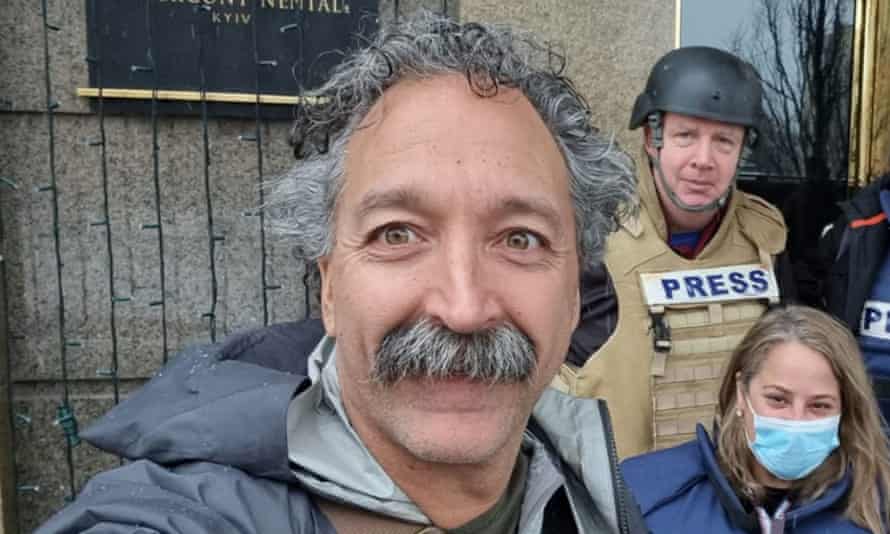 Kuvshynova had helped Fox crews navigate kyiv and the surrounding area while gathering information and speaking with sources.
A funeral service for Zakrzewski was held at Foxrock, Dublin on March 29, where the Irishman was remembered as a 'truthteller' full of energy and passion for bringing people's stories to the world.
Several other journalists, including Brent Renaud, an American documentary filmmaker and other war zone veteran, have been killed in Ukraine since the start of the war more than a month ago.